HOME

>

Research and Development
Pioneering a new frontier
Contributing to developments in lifestyle and industry - Pioneering spirit for leading the next generation
JNC, since our foundation in 1906, has provided the world with products and technology conforming to the needs of the times as a pioneer of the Japanese chemical industry.
Our research and development team has inherited this pioneering gene, and has produced products such as "LIXON," a liquid crystal material for displays, "ES Fiber," a thermo-bondable composite fiber and "MEISTER," a controlled-release fertilizer.
In the present day when the industrial structure is required to change from the conventional energy consumption type to an environmentally-friendly and energy conservation type, the challenge imposed on the research and development team is to create manufacturing methods and technologies which not only enrich people's lifestyles but also harmonize with the global environment.
We take advantage of our accumulated technologies and experiences to address this challenge with collective effort.
In particular, regarding the following missions, we strive to create technology and business at an early stage, not only by promoting cooperation within the company but also by advancing open innovation with universities, research institutions and corporations both in and outside the country.
Making use of superior technology that won the Nobel Prize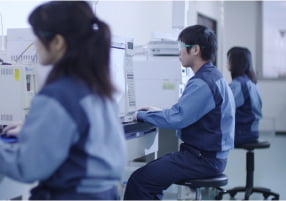 The "Suzuki-Miyaura Cross Coupling and Negishi Reaction" that won the Nobel Prize in Chemistry in 2010 is applied widely in the development and manufacture of our liquid crystal compounds and organic EL compounds.
Our company has achieved stable manufacturing of liquid crystal compounds by optimizing reaction conditions and improving productivity.
We will continue to pursue improvement in reaction conditions to achieve further reduction of environmental impact and cost improvement.
Mission of Research & Development
1

Renewable energy materials and energy saving-related materials for SDGs (secondary battery members, LED materials,etc.)

2

Electronic materials for realizing an advanced information society (liquid crystal materials, organic EL materials, electronic/semiconductor materials, etc.)

3

Life chemical products for realizeing a safe and prosperous life (antiviral materials, microbial detection Sheets, chromatography media, forward osmosis draw solution for water treatment system, etc.)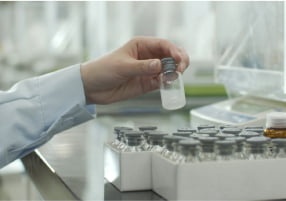 The needs of society are expected to become further diversified and increasingly advanced in the future.
We promote technology development and business development in a creative manner, based on viewpoints ranging from one dimension (point/line) to two dimensions (plane), and further to multiple dimensions in order to meet these needs.
We continue to inherit the gene for the "pioneering spirit" in the new era, and each researcher, having high awareness for social contribution, will promote research and development towards realizing the dream with our customers.