Minamata City (Mayor: Toshiharu Takaoka), JFE Engineering Corporation (President and CEO: Hajime Oshita, HQ: Chiyoda-ku, Tokyo), and JNC Corporation (CEO & President: Keizo Yamada, HQ: Chiyoda-ku, Tokyo) have concluded an agreement on the "supply of electricity to municipal facilities in Minamata City from power sources focused on hydropower" and are set to begin supplying power from August 2020.
For the purpose of achieving "sustainable regional community-building" based on the philosophy of the United Nations' Sustainable Development Goals (SDGs), Minamata City will seek to realize "an energetic town full of smiles where everyone feels happy" by generating a self-sustained virtuous cycle through initiatives integrating the three aspects of "economy," "society" and "environment."
JFE Engineering is engaged in many projects in the fields of waste treatment and water/sewerage, centering on long-term comprehensive management, on the basis of partnerships between the public and private sectors. The company is also committed to electricity retailing business, mainly renewable energy, through its wholly owned subsidiary, Urban Energy Corporation (President: Keiko Haraoka, HQ: City of Yokohama), and promotes local production of energy for local consumption in various regions, taking advantage of its self-developed power supply/demand management system.
Based on the philosophy of "a leading chemical company that aims to contribute to society's progress through superior technology," JNC is engaged in business activities including the production of performance products, chemicals and consumer-oriented products as well as electric power. The company, which is seeking to realize a sustainable future by finding new business opportunities and contributing to resolving social problems, is participating in this project as part of such efforts.
Under the tripartite project, JNC will transmit electricity to its Minamata Factory through self-operated power lines from six of its hydropower plants run in Kumamoto Prefecture, and the remaining electricity will be partially supplied to 15 public facilities in Minamata, including elementary and junior high schools. Urban Energy will be responsible for managing power supply/demand as well as supplementing electricity when hydropower supply runs short due to drought and other factors. The three partners launched demonstration tests using the city's temporary office in fiscal 2017, and confirmed that the project not only reduced electricity bills but also achieved zero CO2 emission coefficient with the acquisition of a non-fossil certificate, thereby expanding power supply under the latest agreement.

Minamata City, JFE Engineering, and JNC will promote local production of hydropower and other energy sources for local consumption in an effort to realize a sustainable society.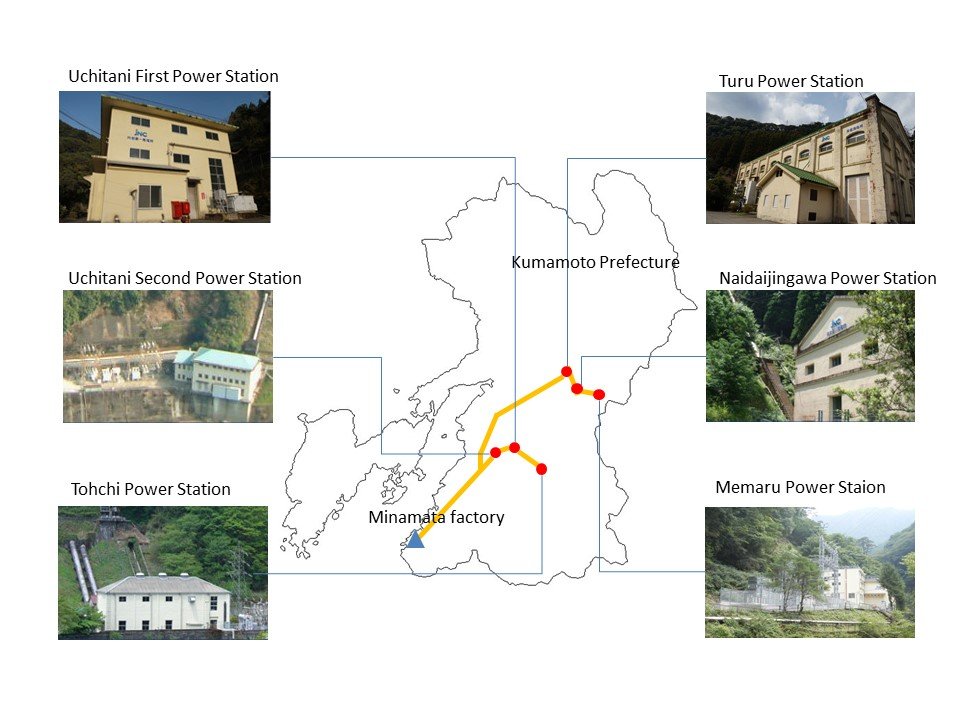 Location map of hydropower plants

Main electricity destinations(Photos: Suito Elementary School [left] and Minamata Municipal Library [right])
Please contact the following for more information.
Public Relations Section, General Administration Department, JFE Engineering Corporation
General Affairs Department, JNC Corporation