Super Edge

Empty Mini Column
Super Edge empty mini column is an empty column for biomedicine separation that anyone can easily packing.
Reproducible packing of columns is possible with standardized user manuals.

Anyone can easily pack into a mini column using the packing tool included in the starter kit (EMC1SK, EMC5SK).

After obtaining the packing tool included in the starter kit, you can pack with empty column set (EMC1C10, EMC5C10).
Various chromatography resins / gels can be packed.
This is an empty column that can properly pack agars, cellulose and acrylic resins that is commonly used in biomedicine or biological separation.

The unique compressions structure enable optimal packing of biological chromatography resins.
※Not suitable for packing non-compressed materials such as silica gel. It cannot be used with organic solvents.
It can be connected to various chromatography systems.
The column can be connected to a 1/16 inch tube with a common 10-32UNF standard finger tight connector.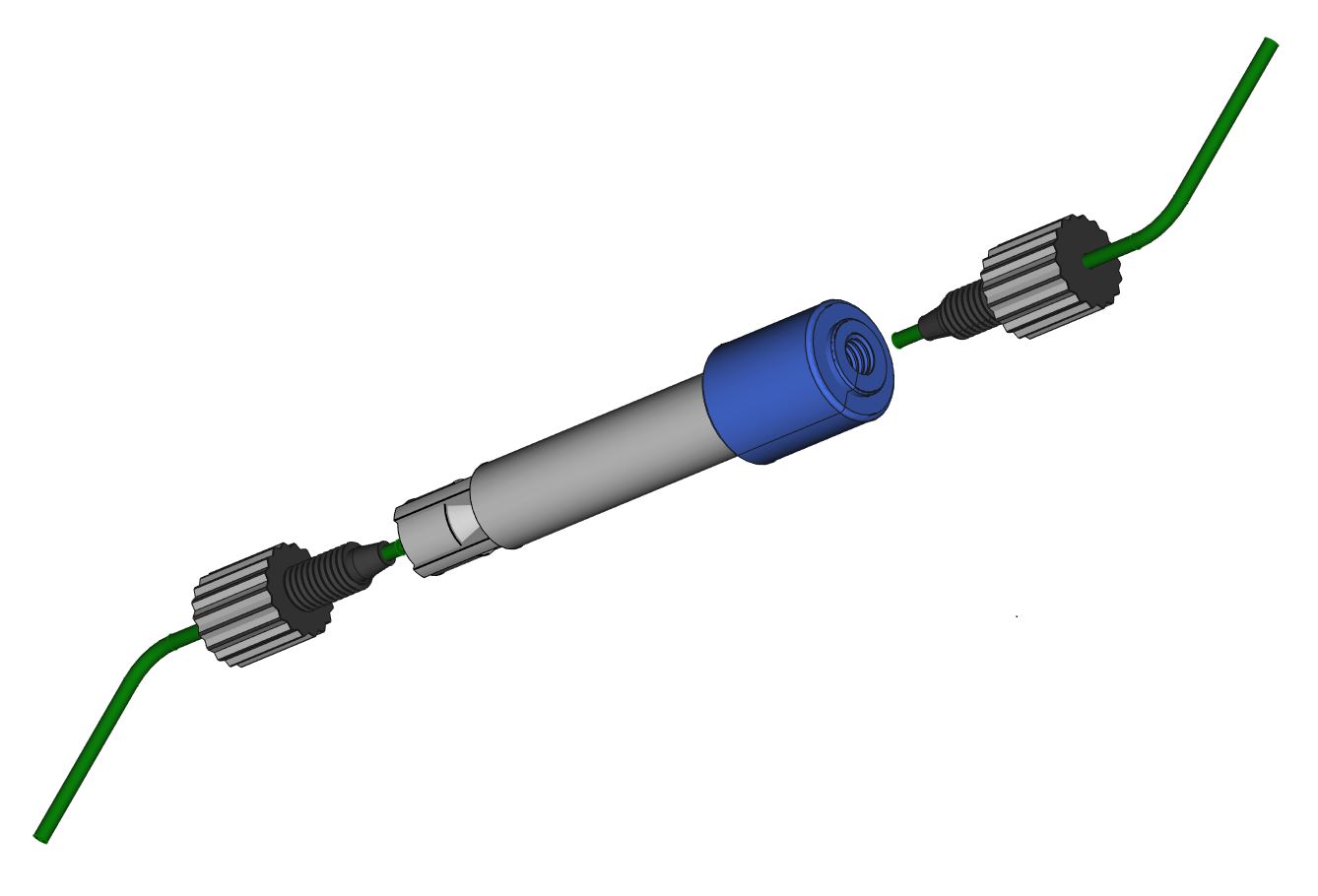 Axial compression with double adapter column "Lab Column" for lab experiment

Introduction
JNC's Super Edge Empty Mini Column Starter Kit∗ can be used to make your own single-use, pre-packed 1 or 5 mL volume columns. These low cost kits can be used to pre-pack columns for advanced chromatography methods development or resin screening experiments.
The Kit provides a complete set of column parts needed to pre-pack column;
a) a Screw press/Stand
b) a packing reservoir
c) a rod for inserting the frit into the column and preparing a pre-packed column without needing special equipment
∗Resin is not included in the kit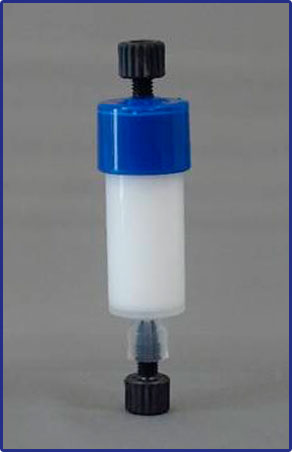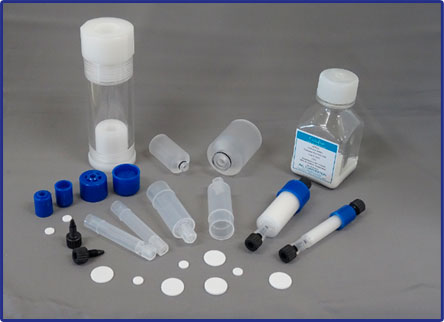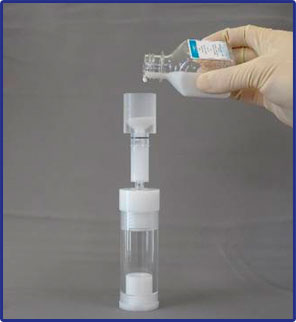 Method of packing to the Empty Mini Column
Features
The empty mini column starter kit is suitable for compression packing of a wide range of chromatography resins, such as cross-linked agarose and CellufineTM cellulose type resins widely used in biopharmaceutical manufacturing. This kit facilitates small scale experiments in this pre-packed column format for candidate resin screening and small scale process purification in the laboratory.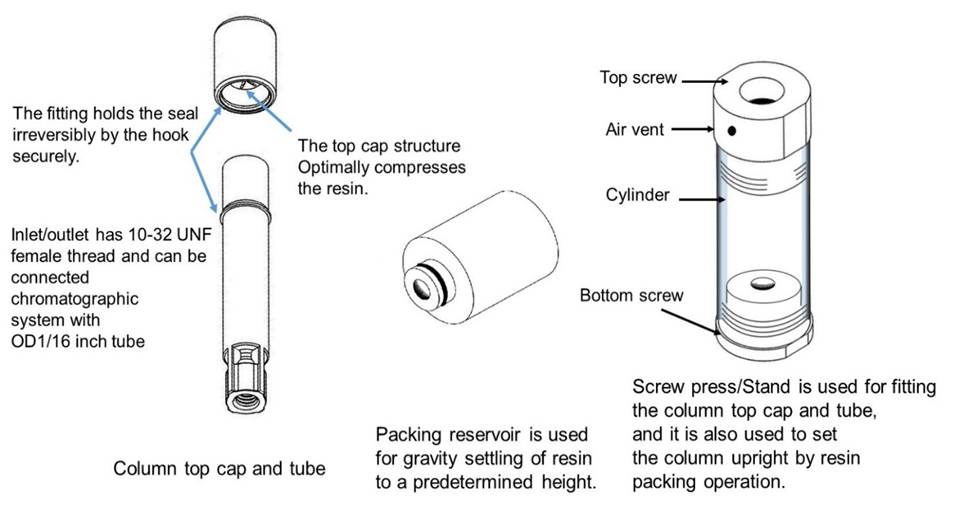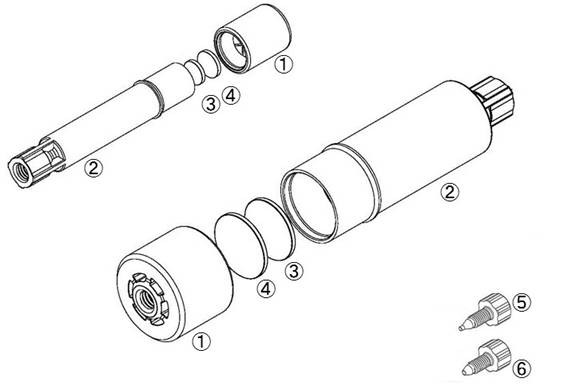 ①

column top cap is made blue colored polypropylene and when assembled on the column tube axially compresses  the resin.

②

column tube is made of translucent polypropylene to easily visualize the packed bed.

③ & ④

frit's are made of Ultra High Molecular Weight Polyethylene (UHMW-PE) having a pore size of 20 µM.

⑤

stop plug is made of Poly Ethyl Ether Ketone (PEEK) with a 10-32 UNF thread for easy sealing of the column  when not in use.

⑥

easy fittings made of PEEK with 10-32 UNF thread for connection of 1/16 inch OD tubing between the column and an AKTA*1chromatography or equivalent chromatography workstation.

⑦

screw press/stand for;
a) holding columns upright during filling and
b) for assembling of the top cap by tightening the fitting of the device with a suitable wrench.

⑧

a rod to insert the frit and push it to the bottom of the column tube.

⑨

a packing reservoir is made of acrylic which is inserted into a column tube for adding and allowing the resin slurry to settle under gravity.

*1AKTA is trademarks of GE Healthcare companies
| Item | Material |
| --- | --- |
| ①Column top cap | Polypropylene |
| ②Column tube | Polypropylene |
| ③Frit (bottom) 20μm | UHMW-PE |
| ④Frit (top) 20μm | UHMW-PE |
| ⑤Stop plug | PEEK |
| ⑥Easy fitting Tubing connection | PEEK |
Super Edge

Empty Mini Column