CellufineTM MAX IB
A mixed mode resin, Cellufine™ MAX IB is especially developed for for monoclonal antibody (Mab) purification after Protein A step. This resin has a salt tolerant
polyamine surface modification that has been partially modified with butyl groups. This ligand design concept will allow for flexibility in applying, Cellufine MAX IB to a wide range of fields in bio-pharmaceutical purification.
Ligand structure of Cellufine MAX IB is described in Figure 1.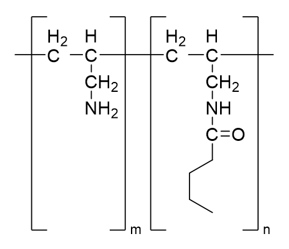 Specification and properties of Cellufine MAX IB is described in Table
| Properties | Value |
| --- | --- |
| Base bead matrix | Highly cross-linked cellulose |
| Particle size | 90 µm average |
| Microscopic test | < 5 % |
| Ion Exchange capacity | 0.10 - 0.16 meq/ml |
| BSA Adsorption capacity | ≥ 60 mg/ml |
| Operating pressure | < 0.3 MPa |
Application of Cellufine™ MAX IB
Cellufine MAX IB can be used as negative (flow-through) mode for Mab polishing applications. Cellufine MAX IB was packed into a 5 mmID x 13.5 cmL (2.65 mL) column and equilibrated in 20 mM Tris-HCL buffer at pH 7.0 at a flow rate of 1.325 mL/min (407 cm/h).After initial capture by a rProtein A column, the resulting elution fraction in 60 mM Acetic Acid pH 3.5 was then held for 60 min at pH 3.4 for viral inactivation. After this step the sample (at 18.0 mg/mL Mab) was adjusted to pH 7.0 with Tris base and a conductivity of 6 mS/cm with NaCl or dilution with column loading buffer. After 0.22 µM filtration, the clarified sample was pumped onto the MAX IB column at 150 mg Mab / mL of resin and the flow-through + wash fraction in equilibration buffer were collected. A summary of the removal of CHO-HCP, dsDNA (HCD), leached rProtein A and aggregated material is shown in Table1, below for Cellufine MAX IB, MAX Q-h and a polymer modified agarose Q competitive media in a flow-through polishing format.
Elution Buffer from ProA
HCP (ng/mg mAb)
Leak ProA (ng/mg_mAb)
Aggregate(%)
HCD (pg/mg mAb)
Recovery(%)
Loading solution (After virus inactivation)
60 MM Acetate Buffer(pH 3.5)
72
3.0
1.7
10
100
Cellufine MAX Q-h
22
2.1
1.9
< 10
97
Polymer modified Agarose Q
27
2.1
1.8
96
Cellufine MAX IB
3
0.0
1.0
95
[Acknowledgement]
This research is partially supported by the developing key technology for discovering and manufacturing pharmaceuticals used for next-generation treatments and diagnoses both from the Ministry of Economy, Trade and Industry, Japan (METI) and from Japan Agency for Medical Research and Development (AMED).
Chemical Stability and Cleaning-In-Place
Cellulose is well-known as a natural product having chemical and physical stability. Thus, since Cellufine is derived from cellulose, it also is stable to chemicals and caustic and acidic solutions. CIP of all Cellufine media can be carried out with 0.5 M NaOH solution. Used media should be stored in 20 % ethanol at 2-25 ℃ after cleaning.
Custom Resin Development Services
JNC offers a custom resin development service for optimization of current products to meet stringent or enhanced performance working directly with large and small customers. In addition, JNC also offers custom resin development services to support new applications of JNC resins.