Super Edge

空迷你层析柱
Super Edge empty mini column is an empty column for biomedicine separation that anyone can easily packing.
Reproducible packing of columns is possible with standardized user manuals.

Anyone can easily pack into a mini column using the packing tool included in the starter kit (EMC1SK, EMC5SK).

After obtaining the packing tool included in the starter kit, you can pack with empty column set (EMC1C10, EMC5C10).
Various chromatography resins / gels can be packed.
This is an empty column that can properly pack agars, cellulose and acrylic resins that is commonly used in biomedicine or biological separation.

The unique compressions structure enable optimal packing of biological chromatography resins.
※Not suitable for packing non-compressed materials such as silica gel. It cannot be used with organic solvents.
It can be connected to various chromatography systems.
The column can be connected to a 1/16 inch tube with a common 10-32UNF standard finger tight connector.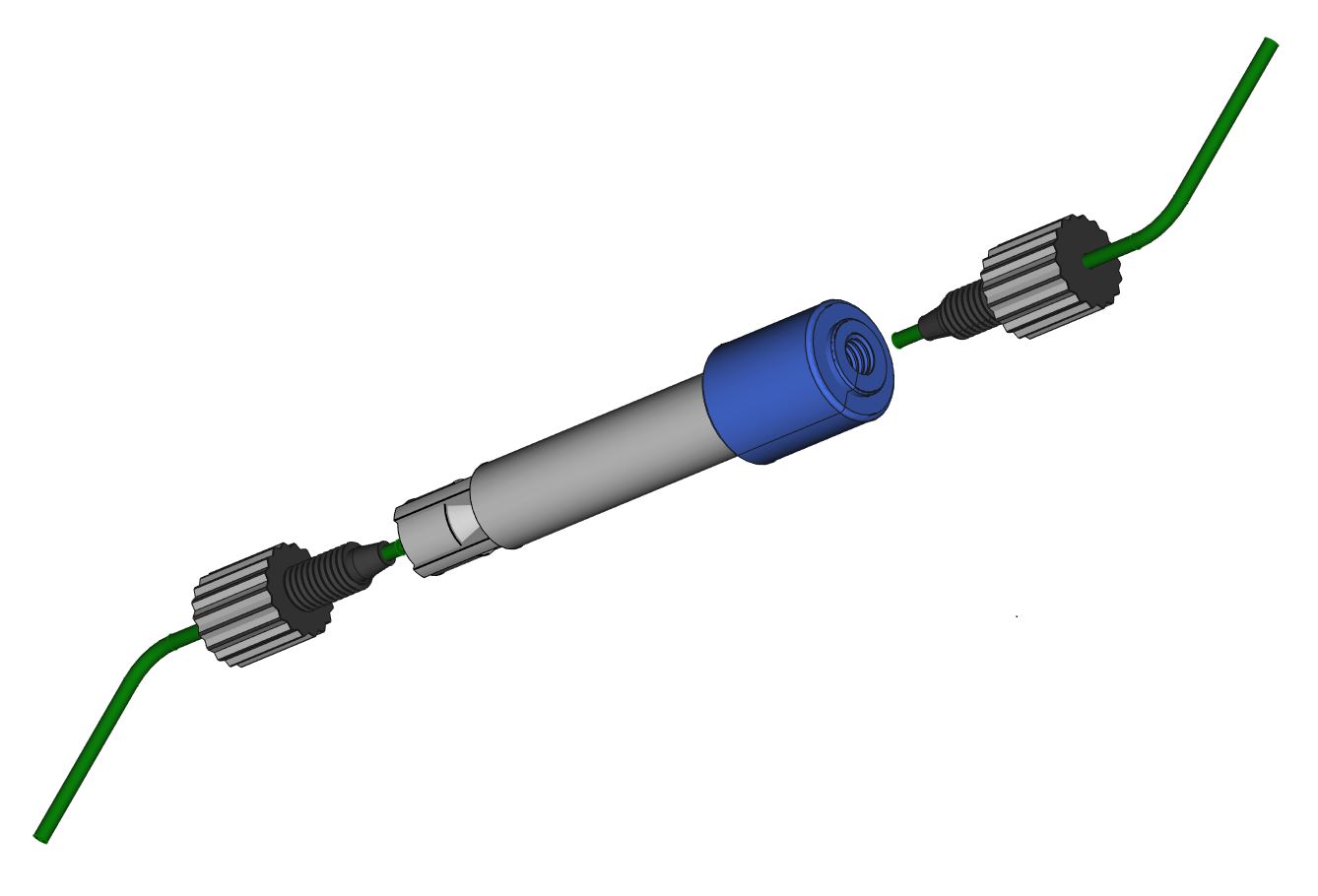 Axial compression with double adapter column "Lab Column" for lab experiment

介绍
JNC的Super Edge空型迷你色谱柱入门套件*可用于用户自己制作一次性使用的1或5 mL体积的预装色谱柱。用这些低成本套件预装好的色谱柱最适合作为开展色谱方法的开发或树脂筛选等实验。
这组套件提供了预装色谱柱所需的全套色谱柱零件;
a) 螺旋压力机/色谱柱支架
b) 冲填容器
c) 无需特殊设备即可将玻璃料插入色谱柱并准备预填充色谱柱的棒
∗树脂不包含在套件中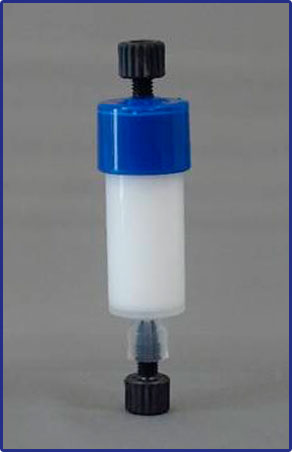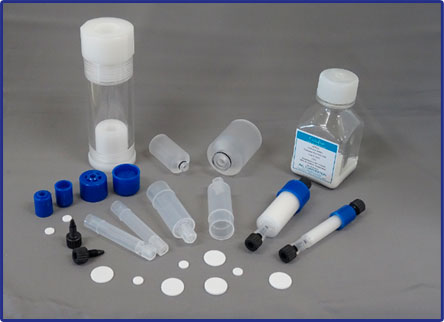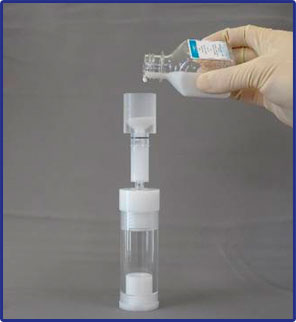 Method of packing to the Empty Mini Column
Features
The empty mini column starter kit is suitable for compression packing of a wide range of chromatography resins, such as cross-linked agarose and CellufineTM cellulose type resins widely used in biopharmaceutical manufacturing. This kit facilitates small scale experiments in this pre-packed column format for candidate resin screening and small scale process purification in the laboratory.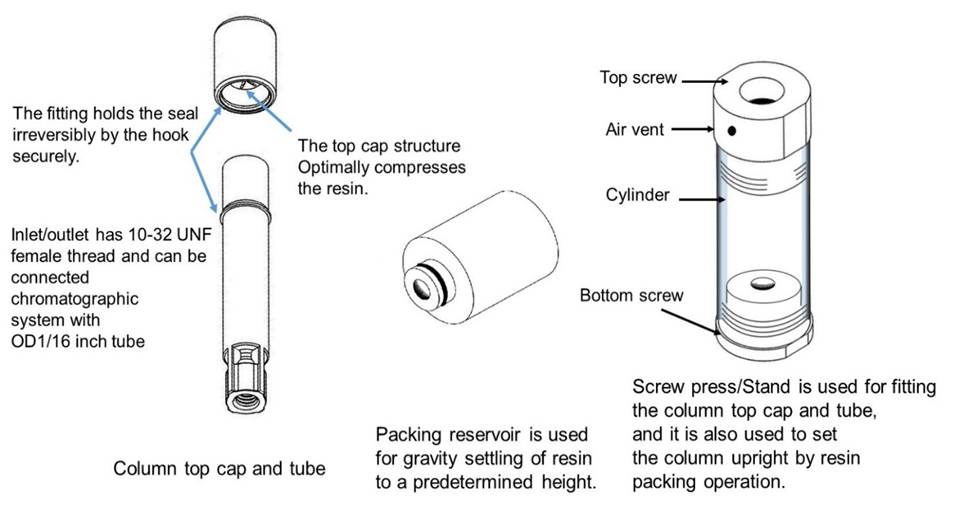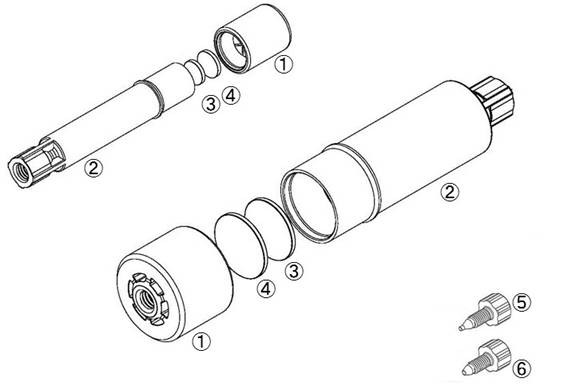 ①

column top cap is made blue colored polypropylene and when assembled on the column tube axially compresses  the resin.

②

column tube is made of translucent polypropylene to easily visualize the packed bed.

③ & ④

frit's are made of Ultra High Molecular Weight Polyethylene (UHMW-PE) having a pore size of 20 µM.

⑤

stop plug is made of Poly Ethyl Ether Ketone (PEEK) with a 10-32 UNF thread for easy sealing of the column  when not in use.

⑥

easy fittings made of PEEK with 10-32 UNF thread for connection of 1/16 inch OD tubing between the column and an AKTA*1chromatography or equivalent chromatography workstation.

⑦

screw press/stand for;
a) holding columns upright during filling and
b) for assembling of the top cap by tightening the fitting of the device with a suitable wrench.

⑧

a rod to insert the frit and push it to the bottom of the column tube.

⑨

a packing reservoir is made of acrylic which is inserted into a column tube for adding and allowing the resin slurry to settle under gravity.

*1AKTA is trademarks of GE Healthcare companies
| Item | Material |
| --- | --- |
| ①Column top cap | Polypropylene |
| ②Column tube | Polypropylene |
| ③Frit (bottom) 20μm | UHMW-PE |
| ④Frit (top) 20μm | UHMW-PE |
| ⑤Stop plug | PEEK |
| ⑥Easy fitting Tubing connection | PEEK |
Super Edge

Empty Mini Column